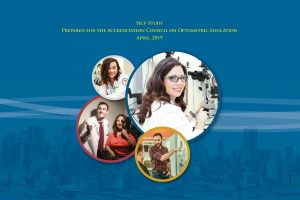 NEW YORK, July 25, 2019 — The State University of New York (SUNY) College of Optometry received their notification letter and final accreditation report from the Accreditation Council on Optometric Education (ACOE) following the April 8-10 campus visit by the evaluation team. The Council voted to continue the classification of "Accredited". The next scheduled evaluation visit will take place in April 2027.
The report was very positive and the College did not receive any "Recommendations". Recommendations require corrective action since they have the potential to jeopardize the program's accreditation status if no corrective action is taken. The last comprehensive ACOE review in 2011, also resulted in no recommendations.
The ACOE is the accrediting body for professional optometric degree (O.D.) programs, optometric residency programs and optometric technician programs in the United States and Canada.
SUNY Optometry is also reviewed by the Middle States Commission on Higher Education, which will visit the campus in Spring 2021.
Accreditation Council on Optometric Education Links and Documents
2019 ACOE Accreditation Notification Letter
ACOE Website
ACOE Accreditation Standards
Media Contact: Liana Rhee, 212.938.5753, lrhee@sunyopt.edu