The co-owners of North Shore Optometric Group forged their friendship—and their partnership—at the College.
There's a school of thought that says friends shouldn't work together if they want to remain friendly. But best friends and SUNY Optometry alumnae Dr. Larina Rosa '05 and Dr. Neha Sheth '05 wouldn't have it any other way. As the co-owners of North Shore Optometric Group—which has two locations on Long Island—they are living their College dream of working together in private practice.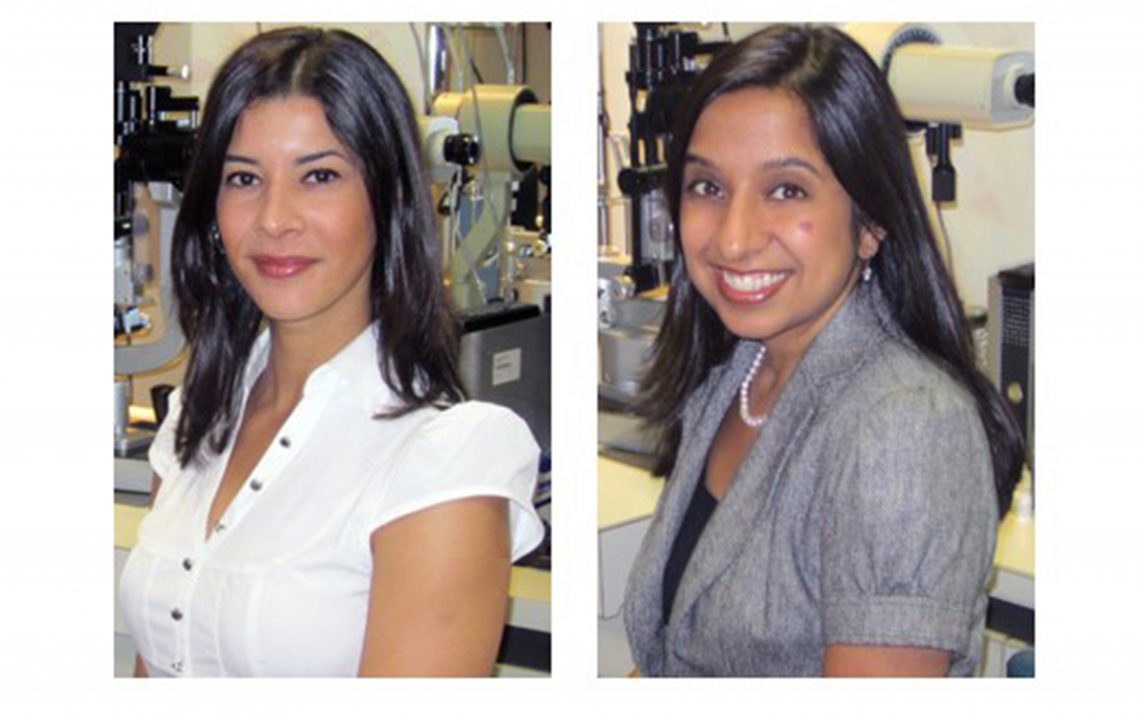 "The decision to go into practice with Neha was by far one of the best decisions I have ever made in my life. The foundation we have as friends made the transition into being business partners very easy," Dr. Rosa says.
Dr. Sheth agrees: "We studied for every single test, practical and board exam together. In our practice management class, we partnered up for a project where we had to start our own practice—that was when we set the goal to start our own practice within five years. I am so fortunate to have a successful practice with my best friend, and I would never be able to do it without her!"
The rush of ownership is something the duo wants all graduates of the College to experience. "I have felt such a great amount of pride, satisfaction and joy in being a small business owner. For the last nine years, I've never once regretted my decision to create this practice, and even though there is added stress tied to running it, there is also a huge sense of fulfillment. Take the leap!" says Dr. Sheth.
Dr. Rosa and Dr. Sheth both came to their love of medicine as kids. Dr. Rosa was fit for her first pair of contact lenses at the age of 8 so that she could see while performing as a gymnast. She was pre-med in undergrad, but something on television changed the course of her life. "It might sound kind of silly, but I finalized my decision after watching a commercial asking for eyeglass donations for those in need," Dr. Rosa says. "I remember thinking about how nearsighted I am and how would my life be different if I was from a place where I didn't have access to vision care. It was amazing to me how something as simple as a pair of eyeglasses could be life changing. From that point on, I knew that I wanted to be an optometrist." In the years since, she has also been on four optometry mission trips to Oaxaca, Mexico, to help improve access to eye care.
Meanwhile, Dr. Sheth's contact lenses entered her life when she was 14. "It was a whole new world for me! My optometrist at the time was so sweet and patient, and I felt very comfortable asking her questions about optometry as a career," she explains. "She mentioned many positives, such as the possibility of a flexible schedule and the expanded scope of practice. I immediately became interested."
So both found their way to the College (Dr. Rosa because of its ability to help students pass the boards and proximity to her Queens home; Dr. Sheth because it fulfilled her childhood dream of living in New York City and had a great reputation). They were inseparable by their second year, and their commitment to the field only grew.
"I am drawn to the many facets of the world of optometry. I love that at one moment I may be fitting someone for their first pair of contacts and then I am treating a glaucoma patient or dealing with a retina issue. I am able to provide vision therapy to a patient struggling in school, help a concussion patient who is struggling visually, treat that patient with a conjunctivitis, follow and educate my diabetic patients and comanage cataract and LASIK surgery," says Dr. Rosa.
Dr. Sheth is driven by the way optometry changes lives. "The gift of vision is priceless, and preserving a patient's eyesight is probably one of the most impactful ways to improve their quality of life, so it felt like a satisfying career choice," she says.
One of the many things the partners agree on is just how special their time was at the College. "Our class of 2005 had a special camaraderie. For four years, they felt like my family; I miss my classmates tremendously!" says Voorhees, New Jersey-native Dr. Sheth.
"I have so many fond memories of my time at SUNY that I can truly say that my four years spent there were some of the best years of my life," says Dr. Rosa.
Media Contact: Amber E. Hopkins Tingle, 212.938.5607, amber@sunyopt.edu