The couple credits the College with giving them a start—and shaping their future.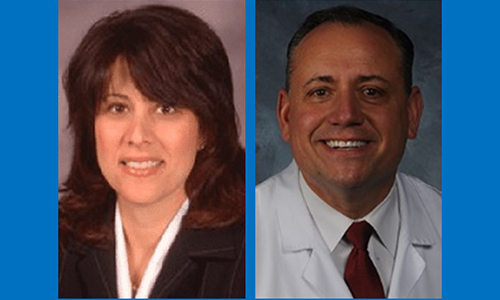 Eye Care Unlimited opened its doors in The Bronx on September 8, 1992. But its origin story began five years earlier.
In fall of 1987, president and co-owner A.J. Contento (OD '90) donned a priest costume and attended the annual SUNY Optometry Halloween Party. There, he met the bumblebee who later became his wife, Annette Contento (OD '91). These days, the couple works alongside co-owner Evan Kaplan (OD '90, MS '91) to run their practice.
The Contentos found each other at SUNY Optometry, but they took different paths to get there. A.J.—born and raised in the community they now serve—was inspired to take up optometry after a career-ending injury deterred his burgeoning baseball career and redirected his steps to the path of his many family members who serve as physicians. Annette, from Queens, caught the bug after working in an optometrist's office as a teenager and realizing it was a career she in which she could excel.
The duo is driven by legacy—both familial and scholarly. And their son Michael, who will graduate from the College in 2020, is following in their footsteps. When asked why it is important to work together, A.J. says, "Italian families! Family is the center of our universe." Annette explains: "Having family present in our practice makes going to work special. You can trust that we all want what's best for our practice and our patients, and we appreciate the hard work involved to achieve our common goals."
"I am most proud of our ability to impact so many lives," A.J. continues. "Sight is our most precious sense and our work as a profession is very important to so many people. Hopefully, our legacy will be that we are hardworking, selfless, dedicated to excellence and always willing to help."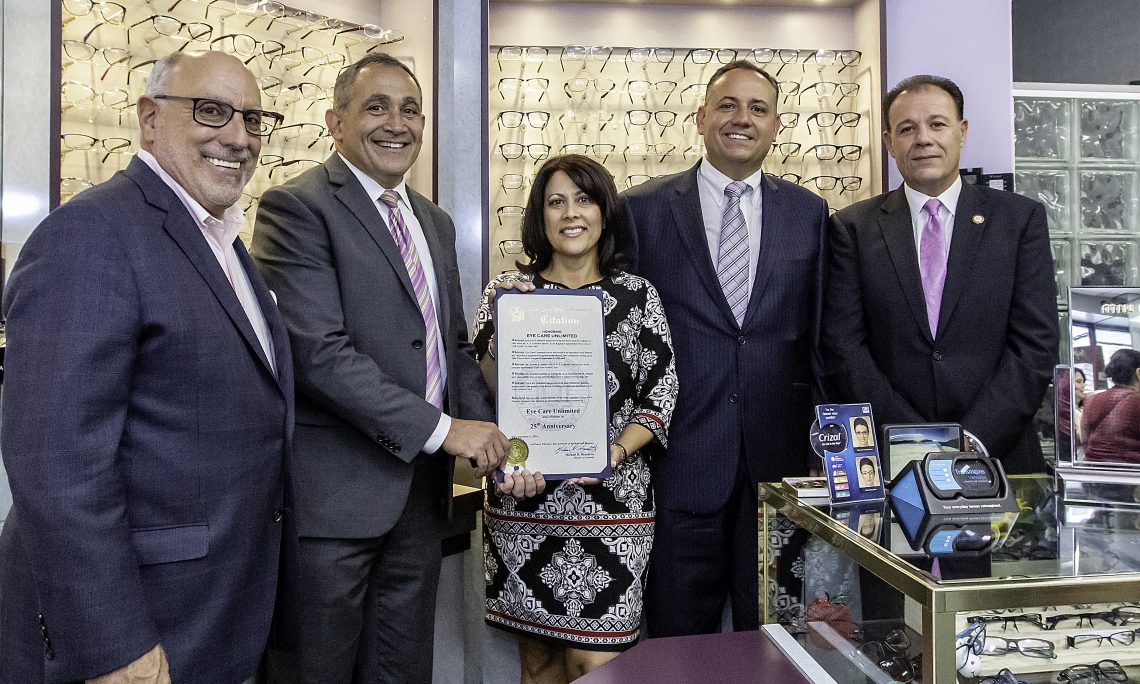 And it all began at the College. "SUNY Optometry has given us education, a career, our friends and our family. That is a pretty impressive legacy," A.J. says.
Annette expands on the role the College plays in their practice: "Having a practice that thrives with the help and expertise of SUNY Optometry graduates and student interns is very important to me. We support the institution that afforded us the ability to achieve our dreams," she says. "Our experience can be valuable to others as they navigate the challenging world of balancing patient care with health care accessibility and affordability."
But as great as working in a family practice is, Annette says there are some challenges that come with the (shared) territory. "We all have different practicing styles, and sometimes you have to take a breath, step back and let your loved ones do things their way," she says. "But this is a positive thing, because we can reach diverse patient populations who have different ideas about their ideal eye care experience." There are also practical concerns: "We often need the same days off for holidays, vacations and appointments, and it can be challenging to get fill-in help."
When they are not working, the Contentos love cooking, gardening, traveling—anything that brings their family of six together.