The 2013 graduate helps everyone—including himself—become better optometrists.
At the beginning of the first semester at SUNY Optometry, most students are adjusting to a complete overhaul in their schedules and the rigors of unfamiliar coursework. But some—like Dr. Antonio Chirumbolo—are already dreaming beyond the classroom.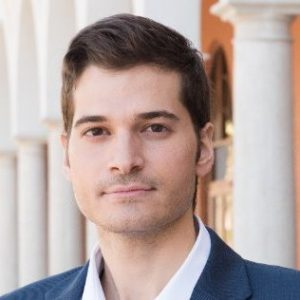 "A month or two into our first year, a classmate of mine, Dr. Matthew Geller, and I had an idea to start a website called OptometryStudents.com," says Dr. Chirumbolo. "The two of us built the website and began writing articles and content we thought would be helpful for our colleagues and future optometry students." The site launched in 2009 and today, after being acquired by the American Optometric Association, it is the largest online publication for optometry students.
As if that was not enough additional work, just before graduation four years later, entrepreneurial inspiration struck the pair again. "With New Grad Optometry we started building the next chapter of our digital publishing careers—it would eventually become the number one Alexa ranked publication in eyecare," Dr. Chirumbolo says about the site, which helps new optometrists by providing custom media solutions for the industry's top organizations.
Today, Dr. Chirumbolo, who graduated from the College in 2013, is associate director of marketing with an emphasis on digital content creation at New Grad Optometry and Covalent Careers, a 2015 site founded by Dr. Geller. He is also a practicing optometrist in his native Pittsburgh, Pennsylvania. The primary missions of New Grad Optometry and Covalent Careers are to assist new ODs in building fulfilling careers. That is achieved through mentorship, education and job placements. "We are real people, who have been through many of the challenges new grads face, and are always there to offer advice or help them through that transition period," says Dr. Chirumbolo.
Instead of erecting a dividing line between his career as an optometrist and as a digital content creator, Dr. Chirumbolo believes the interplay between the two has made him a better doctor. "Through creating content and providing resources, you quickly find that you always need to stay up-to-date with the latest trends and news in the profession," he says. "It can be hard to keep up with that stuff after you graduate because you are responsible for doing so on your own. This forces me to continue learning, and keep my finger on the pulse of the profession, which then allows me to take that information back to the exam room and practice."
This quest for learning also speaks to another of Dr. Chirumbolo's philosophies: career satisfaction can be achieved by believing that everything is a possibility. "You cannot be afraid to step outside the boundaries of what we do as ODs," he says. "If you have a passion for something, set a goal to incorporate that into your career. I never studied digital publishing or marketing in my life, but I surrounded myself with people who had and learned from them. With hard work, you can learn anything."
As he continues to expand his knowledge of digital publishing in the optometry field, the payoff of Dr. Chirumbolo's hard work goes far beyond his career—it touches every patient and doctor with Internet access.