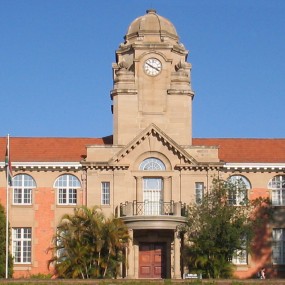 The global presence of the SUNY College of Optometry, which has been steadily expanding, now extends into Africa. In 2015, the College entered into a partnership with the University of KwaZulu-Natal (UKZN) in South Africa to assist that institution's Department of Optometry in training South African optometrists in the use of therapeutic drugs.
As a result of an expansion in the scope of practice in South Africa, the nation's 3,000 practicing optometrist additional training in order to be licensed to prescribe ocular therapeutics for their patients. UKZN is the first institution in the nation to offer such training. SUNY Optometry's specific expertise in this area was a major draw for UKZN and one of the reasons they were eager to move ahead with the partnership. As the scope of practice for optometrists expands in South Africa, educational institutions there are looking to benchmark their optometry programs against North American programs, which are considered by many to be the gold standard of optometric education worldwide.
Ms. Vanessa Moodley, academic leader and senior lecturer in the Department of Optometry at UKZN, has worked closely with the College, including Dr. Richard Madonna, director of Continuing Education, to initiate and develop the program which is taught by Dr. Madonna as well as SUNY Optometry's director of Residency Education, Dr. Diane Adamczyk and Department of Biological and Vision Sciences faculty members, Dr. Ann Beaton and Dr. David Krumholz.
In addition to providing the training for the use of therapeutic drugs, SUNY Optometry has discussed the potential of further collaboration with UKZN on a patient care initiative in the greater KwaZulu-Natal province, a region that is in dire need for greater access to eye and vision care.
The College's work in South Africa, and additional efforts around the globe, have been led by the Office of Student Affairs and International Programs, which continues to pursue opportunities that benefit SUNY Optometry's mission, advance the profession and compliment the work of collaborating institutions.