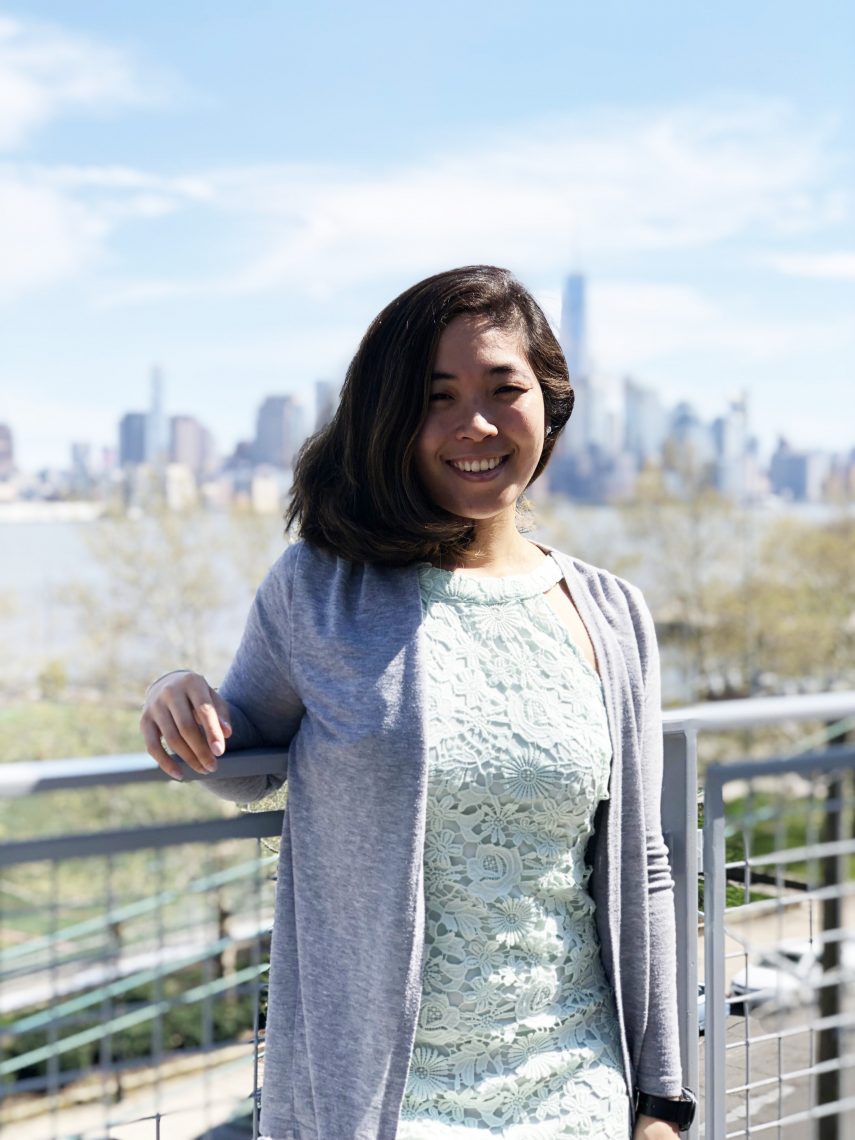 Graduation has been a long time coming for Christienne Aure. "My time in optometry school hasn't been the smoothest. There have been quite a few times where I felt like I wasn't going to make it," she admits.
From grieving the loss of her father to being hospitalized for appendicitis, she juggled many things in her personal life while working toward the last day of her OD program, so finishing these four years is a cause for celebration. "Making it to this point and graduating, despite all I've been through, is my proudest moment," Ms. Aure says. Here, she looks back on how she did it.
Degree: Doctor of Optometry (2019)
Hometown: Toms River, New Jersey
Undergraduate Education: Rutgers University — Cell Biology/Neuroscience and Psychology (2015)
Leadership Positions: Class of 2019 President (2016-2017), Class of 2019 Secretary (2015-2016)
What did you want to be when you grew up?
Ever since I was a child, I wanted to be a doctor. Several members of my family and many of my close family friends are in health care, and I aspired to be like them' to use my time and talents to help those in need. Of all the disciplines and fields, I was drawn to ocular health from a young age because my dad was an optician (he later became a nurse) and my mom was an optometrist. My mom's love for her patients and profession had a lasting impact and influence on me, and I ultimately chose to follow in her (and my grandma's!) footsteps.
What's your fondest moment from your time at the College?
This fond memory isn't really optometry school related, but it did occur during my optometry school years so I suppose it counts! It was when I ran the New York City Marathon in 2017. I didn't think I was gonna finish it, but my optometry school friends pushed and encouraged me to the finish line with heartwarming and motivating messages throughout the race. They kept telling me that they were gonna be there rooting for me, and then when I was crossing the finish line, I saw that my mother and sister were there, too — they surprised me by coming all the way from South Jersey. Just seeing all of them supporting me there at the finish line despite the rain and cold temperatures was very special moment and meant so much to me.
How did your classmates shape your experience at the College?
I didn't have the smoothest of rides through optometry school. There were a few very tough times for me over these past few years; the hardest one was my father coming out of remission and passing from cancer during my first year. Several of my classmates, who are now my close friends, definitely helped me get through those hard times. I can honestly say that I wouldn't have made it to this day without their support, and I am incredibly grateful and lucky to have them as friends.
What was your favorite course?
Dr. Richard Madonna's Ocular Anatomy, Biochemistry and Physiology course during first year. He makes the important information in his class so digestible, while also being hilariously entertaining. He definitely made the class the very memorable and fun. #ApexToApex
What are your post-graduation plans?
I plan to work in a private practice in New Jersey and New York and be fairly active with Volunteer Optometric Services to Humanity to bring eye care to the people who need it most.
What's your best advice for incoming students?
Time here in optometry school flies by in a blink of an eye. It's important to study and do well in school and clinic, but don't forget about yourself and those around you. Be involved at school, make those connections with your classmates and professors, make time for yourself and do the things you love outside of school, and take breaks and explore what the city has to offer. I think it's easy to forget this when we get bogged down, especially during first and second year with the rigorous course load and when we're studying for boards during third year.
If you do ever get bogged down and feel like all is lost while in school, take a moment to step back and know that you are smart enough and mentally strong enough to get through whatever is challenging you right now—you wouldn't have gotten to this point in optometry school if you weren't. You can do it!
Media Contact: Amber E. Hopkins Tingle, 212.938.5607, amber@sunyopt.edu