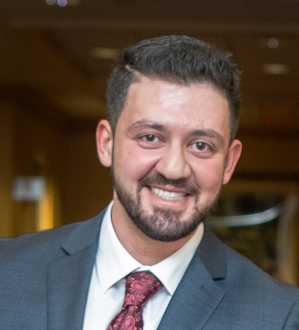 Mark Ossi grew up in England where "footy" is everything. He thought he would become a professional soccer player and was even recruited for a semi-professional club at age 12. Luckily for the pre-optometry students who count on his test prep guidance, this year's recipient of the Esther J. Werner Memorial Award for Academic Excellence chose to pursue a career in optometry.
Degree: Doctor of Optometry (2019)
Hometown: Jacksonville, Florida
Undergraduate Education: University of Florida — Biology (2015)
What drew you to optometry?
I shadowed various professions, including primary care physicians, podiatrists, pharmacists and dentists. I was on the verge of changing my career path until I shadowed my optometrist and found something that provides a perfect balance of what I was looking for professionally.
What is OatQuestionOfTheDay.net?
I created the site as a study guide resource for pre-optometry students after performing well on my Optometry Admission Test (OAT). It has since branched out to include an archive of questions that aim to mimic the style of the test to provide future optometry students extra (and free) practice for the entrance exam.
What is your fondest memory of your time at the College?
My fondest memory is when we began to see patients at the end of second year. You've survived the rigorous academic part of optometry school and now it's time to convert that knowledge to patient care. This is the point where you start to feel like a doctor, and it's the beginning of your direct clinical experience.
How did your classmates shape your experience at the College?
I was lucky to have classmates that are very easy to get along with. Everyone was in this together, and we all survived practicals, exams and boards by supporting each other with amazing study guides and humor.
What was your favorite class?
Visual Functions was my favorite. Nothing beats spending two months learning about the highly clinically-relevant concept that is the Horopter.
What's your best advice for incoming students?
Enjoy the ride.
Media Contact: Amber E. Hopkins Tingle, 212.938.5607, amber@sunyopt.edu