NEW YORK CITY – Optometrists from SUNY Optometry's University Eye Center conducted 48 vision screenings during the second annual senior resource fair co-hosted by State Senator Brad Hoylman (D, WF-Manhattan) and 32BJ SEIU on Tuesday, July 10.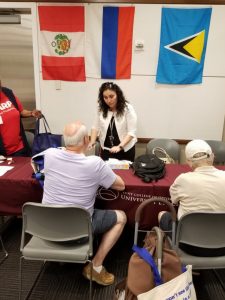 Participating organizations offered free services to more than 500 seniors, caregivers and family members from State Senator Hoylman's district, including assistance with affordable housing programs, legal advice and enrollment in government programs. Attendees also received a senior resource guide to help identify important benefits, services and information across the community.
"Despite the myriad of programs available to seniors in New York, many go unused just from lack of awareness," State Senator Hoylman said. "Senior citizens are New York City's largest growing population. They are the backbone of our community here in Senate District 27, and deserve to age with dignity and respect."
SUNY Optometry's Dr. Daniela Rutner, Dr. Eva Duchnowski and resident Dr. Ayah Ahamed performed 48 vision screenings and community outreach coordinator Ms. Clarissa Burroughs provided 85 seniors with vision care information during the three-hour fair.
The event featured representatives from fifty-eight nonprofits and city and state agencies, including the office of New York State Comptroller Thomas DiNapoli, New York City Comptroller Scott Stringer, New York City Public Advocate Letitia James, Manhattan District Attorney Cyrus Vance, AARP and the New York Legal Assistance Group.
Media Contact: Amber E. Hopkins-Jenkins, 212.938.5607, aehopkinsjenkins@sunyopt.edu