NEW YORK CITY — SUNY College of Optometry and Purchase College have collaborated to establish the Neuberger Museum of Art's SPACE | 42.
Located on SUNY Optometry's lobby level, the new gallery is a contemporary art space in the heart of New York City.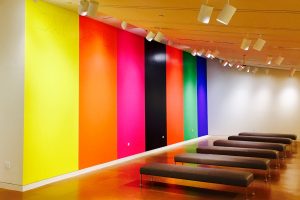 The inaugural installation is Day After Day by Deborah Kass, a Brooklyn-based artist known for the OY/YO public art sculpture in Brooklyn Bridge Park.
The site-specific wallpaper piece is based on her 2010 painting of the same name.
"The idea for it began with the Stephen Sondheim song, 'Not a Day Goes By,'" says Kass, whose work may also be found at the Museum of Modern Art (MoMA) and the Whitney Museum of American Art.
"The color panels I used were a reference to Ellsworth Kelly, whose work I love. I used a stencil from a hardware store for the type, which some might say is in the style of Jasper Johns, but he's another favorite artist of mine, so it's ok."
SPACE | 42 is consistent with the vision of Roy R. Neuberger, the Museum's founding patron – to support and encourage the work of living artists, to spark community engagement and dialogue, and to be accessible to all.
Media Contact: Amber E. Hopkins-Jenkins, 212.938.5607, aehopkinsjenkins@sunyopt.edu