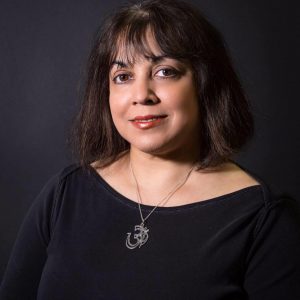 New York, NY — The SUNY College of Optometry Alumni Association has named Neera Kapoor, OD, MS, '94, as the 2021 "Alumna of the Year." The award celebrates SUNY Optometry graduates who remain involved with the College through volunteerism and financial support, dedication to the profession through education, organized practice, publications or research, and commitment to community service at home and abroad.
"Dr. Kapoor embodies the spirit of the Alumna of the Year award by translating her time and training at SUNY Optometry into a career marked by professional excellence in research, teaching, and patient care. She exudes passion for her work and compassion for the people she serves," says Dawn Rigney, MPH, Vice President for Institutional Advancement at SUNY Optometry. "She is the only alumna who has received all three of the most prestigious awards given by our College community in recognition of her continued support, advocacy, mentorship, and contributions."   
After receiving an undergraduate degree in the sciences from the University of Toronto, Dr. Kapoor moved to New York City to study and start her career at SUNY Optometry. She credits her parents and professors at the College with fostering her future in the optometric field, now spanning more than 25 years.
"My mother inspired me to pursue optometry. She knew and felt that I wanted to be involved in health care. She suggested that I consider optometry since I enjoyed optics and vision care," recalls Dr. Kapoor. "I chose SUNY because of the large and diverse patient population, strong didactic program, option of the combined OD/MS program, and amazing faculty."
Dr. Kapoor graduated with an MS in 1993, followed by an OD in 1994, and remained at the College to pursue a residency in Vision Therapy and Rehabilitation. "My father is the one who piqued my interest in vision rehabilitation when I was in my teens. Once I was in optometry school, various faculty members illustrated and demonstrated that one can alter vision function and how it interacts with our other senses to enhance overall function."
With a passion for learning and caring for patients, Dr. Kapoor continued her journey from pupil to professional at SUNY Optometry, rising to Associate Clinical Professor by 2003 and serving as Chief of Vision Rehabilitation Services from 2010-2015. In 2016, she transitioned to NYU School of Medicine, where she currently holds the rank of Clinical Professor of Rehabilitation Medicine and conducts clinical research. She also provides clinical care for outpatients and inpatients in her work as a neuro-optometrist at NYU-Langone Health's RUSK Institute of Rehabilitation Medicine.
"Every patient encounter inspires me, as I am sure it does for fellow alums, to do my very best by the patient by applying the optometric educational and clinical foundation instilled in me from SUNY Optometry," says Dr. Kapoor.
Amid her roles as an educator and clinician, Dr. Kapoor has co-authored over 30 peer-reviewed articles, ten textbook chapters, and 25 poster presentations and presented over 100 lectures regionally, nationally, and internationally regarding vision and acquired brain injury. She has received numerous honors for her contributions to optometric training, care, and research, including the Optometric Center of New York President's Award in 2015 and the Distinguished Residency Alumni Award in 2017 recognizing her service to patients and mentorship of peers and aspiring optometrists.
"Receiving the SUNY Optometry Alumna of the Year Award is a very great honor because it comes from my colleagues: my fellow SUNY-Optometry grads. We know about our wonderful alma mater and how it changed our lives for the better," says Dr. Kapoor. "I hope that we can keep SUNY Optometry continuing to inspire, educate, and graduate future alumni for generations to come."
September 9, 2021
Organization contact: Adrienne Stoller, communications@sunyopt.edu, 212-938-5600
###
About SUNY Optometry
Founded in 1971 and located in New York City, the State University of New York College of Optometry is a leader in education, research, and patient care, offering the Doctor of Optometry degree as well as MS and PhD degrees in vision science. The College conducts a robust program of basic, translational and clinical research and has 65 affiliated clinical training sites as well as an on-site clinic, the University Eye Center.  SUNY Optometry is regionally accredited by the Commission on Higher Education of the Middle States Association of Colleges and Secondary Schools; its four-year professional degree program and residency programs are accredited by the Accreditation Council on Optometric Education of the American Optometric Association. All classrooms, research facilities and the University Eye Center, which is one of the largest optometric outpatient facilities in the nation, are located on 42nd Street in midtown Manhattan. To learn more about SUNY Optometry, visit www.sunyopt.edu.