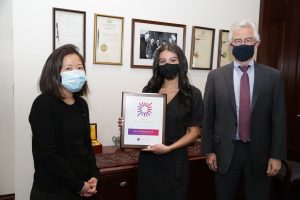 New York, NY—Following the announcement of its 2021 Best Practices honorees, CooperVision has revealed the recipients of its second annual Best Practices Scholarship. Offered to outstanding third-year optometry students, the scholarship enables future eye care professionals to learn directly from some of the best in optometry. 
Among the three student recipients of the 2021 Best Practices Scholarship is Melody Kordnaij at SUNY College of Optometry. It is the second year in a row that the award has been won by a SUNY Optometry student.  
"Melody is a brilliant student and exceptionally caring intern, but it is her daily attitude that truly sets her apart," said Kordnaij's mentor, Assistant Clinical Professor Dr. Sharon Keh. "She is consistently grateful, well-prepared, humble, professional, and full of integrity. She is an exemplary role model for all of our students and easily within the top 1% of students I have worked with at the SUNY College of Optometry."
Working with Dr. Keh, faculty advisor of the MicroCredential program in Advanced Cornea and Contact Lenses, Kordnaij authored "Hybrid Contact Lenses – A Novel Solution to Limbal Compromise" for which she presented a poster at the Global Specialty Lens Symposium in January 2021.  Kornaij holds many leadership positions at the College, including as President of SVOSH (Student Volunteer Optometric Services to Humanity).
CooperVision scholarship recipients were chosen based on their academic standing at a U.S. optometry school, their demonstration of leadership and participation in school or community activities, honors, and additional optometry-related experience. The Best Practices Scholarship provides them the opportunity to attend the 2021 Best Practices Summit—to be held virtually this spring—where they will listen to and collaborate with both the 2020 and 2021 Best Practices honorees, as well as last year's scholarship recipients.
"Peer-to-peer collaboration has become a highlight of the Best Practices program, and we are excited to extend those opportunities to exceptional future eye care professionals," said Michele Andrews, OD, Vice President, Professional and Government Affairs, Americas, CooperVision. "This year's scholarship recipients stood out for their drive and passion for advancing the profession, so I expect that the Best Practices honorees will gain as much inspiration from the students as the students gain from them."
The Best Practices Scholarship Program is an expansion of CooperVision's annual Best Practices initiative, which recognizes optometric practices that advance the profession through innovation, leadership, and the provision of exceptional patient experience. For more information about the award, visit https://coopervision.com/practitioner/best-practices/academics.
April 5, 2021
Organization contact: Adrienne Stoller, communications@sunyopt.edu, 212-938-5600
###
About CooperVision 
CooperVision, a division of CooperCompanies (NYSE:COO), is one of the world's leading manufacturers of contact lenses. The company produces a full array of daily disposable, two-week and monthly soft contact lenses that feature advanced materials and optics, and premium rigid gas permeable lenses fororthokeratology and scleral designs. CooperVision has a strong heritage of addressing the toughest vision challenges such as astigmatism, presbyopia, childhood myopia, and highly irregular corneas; and offers the most complete portfolio of spherical, toric and multifocal products available. Through a combination of innovative products and focused practitioner support, the company brings a refreshing perspective to the marketplace, creating real advantages for customers and wearers. For more information, visit www.coopervision.com.
About CooperCompanies 
CooperCompanies ("Cooper") is a global medical device company publicly traded on the NYSE (NYSE:COO). Cooper operates through two business units, CooperVision and CooperSurgical. CooperVision brings a refreshing perspective on vision care with a commitment to developing a wide range of high-quality products for contact lens wearers and providing focused practitioner support. CooperSurgical is committed to advancing the health of women, babies and families with its diversified portfolio of products and services focusing on medical devices and fertility & genomics. Headquartered in San Ramon, Calif., Cooper has a workforce of more than 12,000 with products sold in over 100 countries. For more information, please visit www.coopercos.com.