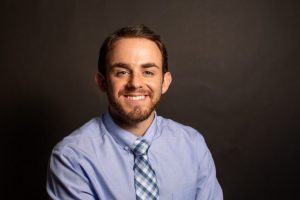 NEW YORK, N.Y. (May 20, 2020) —The timeless idiom, "the apple doesn't fall far from the tree," is clearly the case for Samuel Stack whose parents are eye doctors and proud alum of SUNY College of Optometry. In keeping with optometric family tradition, he also plans to marry fellow graduate and award recipient, Laura Karle. As new doctors of optometry, they will follow in each other's footsteps to a residency in ocular disease.  Recognized for his standout study and service with the Mr. and Mrs. Irving Unger Award for Excellence in Optometry, Stack is seeking to combine professional practice and expertise with advocacy by providing quality vision care to those in need.
Degree: Doctor of Optometry 
Hometown: Woodbridge, CT
Undergraduate Education: University of Connecticut, B.S. in Biological Sciences
What draws you to optometry? 
I always knew I wanted to be in science and saw first-hand how my parents (Thera Bowen, Class of 1987 and Andrew Stack, Class of 1985) changed the lives of their patients by simply fitting them in contacts or giving them a new prescription. I realized that optometry would offer me that incredibly fulfilling feeling while having a great work/life balance.
What is your fondest memory of your time at the College? 
My fondest memory is my service trip to Grenada through SVOSH (Student Volunteer Optometric Service to Humanity). It was incredibly rewarding to be able to work with the rotary club of Grenada and deliver eye care to over 1,000 patients in need. It reinforced why I was doing optometry and pushed me to want to give back through optometry throughout my whole career.
How did your classmates shape your experience?
I made lifelong friends who helped push and guide me through school—and met my fiancée through SUNY Optometry!
What was your favorite course? 
My favorite course was ocular disease with Dr. Mitchell Dul. This class is the base of everything you will ever use in optometry and I think the most I learned in a course in my life.
What are your post-graduation plans?
I am pursuing a residency in ocular disease at the Erie VA Medical Center.
What advice would you give new students at the College?
Make the most of the opportunities at SUNY Optometry. Take the chance to go on that service trip to another country, choose an externship in a site you know nothing about (like I did with the Tucson VA) because you will find your passion and drive to become a better doctor through these experiences.