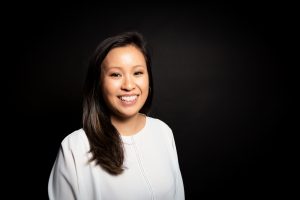 NEW YORK, N.Y. (May 19, 2020) —As a child, Julia Thi Mai had her sights set on becoming an architect but grew fascinated with health and medicine after her first biology class in the 6th grade. Regular visits to the optometrist solidified her career choice. Although she did not pursue architecture as a profession, Mai still engages her talent for art and drawing, a hobby that she finds particularly useful during this time of coronavirus quarantine. Recipient of the Abram A. Hubal, OD Student Service Award Sponsored by The New York State Optometric Association, Mai looks forward to her expanding her professional palette as she advances from optometry student to doctor and resident in the treatment of ocular disease.
Degree: Doctor of Optometry
Hometown: Alexandria, Virginia
Undergraduate Education: University of Virginia, Bachelor of Arts in Biology
What draws you to optometry? 
I enjoy the hands-on experience of working with and establishing a relationship with patients and the instant gratification of being able to address their concerns immediately.
What is your fondest memory of your time at the College? 
The EyeBall is always a fun memory for me because I enjoy being able to engage with my classmates and professors in another setting. One other memory I'll always cherish is my SVOSH trip to Panama. It was fulfilling to be able to provide care/glasses to communities in need and also be able to travel to another country, another passion of mine. 
How did your classmates shape your experience?
Our class provided a great support system and friendships that helped me get through it all!
What was your favorite course? 
Ocular disease was my favorite because I thought it was the most fascinating and was fun to learn.
What are your post-graduation plans? 
I will be an ocular disease resident at BronxCare Health System!
What advice would you give new students at the College? 
Don't lose sight of your priorities! While studying is important, don't forget to make time for your family, friends, and mental health.