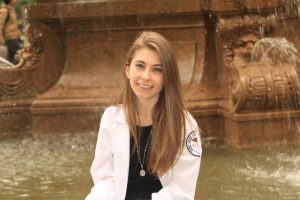 NEW YORK, N.Y. (May 19, 2020) —Growing up, Rachel Bojarski required glasses early on in her childhood, and 'it was a source of insecurity'. At the same time, she knew that she wanted to pursue a career in medicine and gained initial exposure as a volunteer EMT. Ultimately her personal experience and professional aspirations came together to inspire her decision to become an eye doctor. Recipient of the Esther J. Werner Memorial Award for Academic Excellence, Bojarski looks forward to advancing the field of optometry through continuing clinical education and compassionately helping patients, like herself, to see more clearly.
Degree: Doctor of Optometry
Hometown: Potomac, MD
Undergraduate Education: University of Maryland, College Park (B.S. neurobiology and physiology, minor in Spanish)
What draws you to optometry? 
I chose optometry because it allows me to specialize in one of the most intricate organs in our bodies—so much so that our eyes have their own primary care doctor (ODs!) and a variety of specialists. I love being able to connect and empathize with my patients as I address their ocular needs. Optometry is a rewarding field. I am so excited to be a part of it!
What is your fondest memory of your time at the College?
Celebrating the end of final exams with my classmates and friends!
How did your classmates shape your experience?
They have been a huge source of support and inspiration and have helped me get through and enjoy this difficult journey.
What was your favorite course? 
I liked optometric theory because it taught us the reasoning behind our clinical methods and involved a fair amount of math and physics. Of course, ocular disease was also a favorite because of its clinical relevance.
What are your post-graduation plans?
I am looking forward to completing an ocular disease residency at the VA Hospital in Baltimore, Maryland!
What advice would you give new students at the College?
Do not be afraid to make mistakes and to ask questions—the best way to learn and become a better clinician!