MORTON L. KIMMELMAN MEMORIAL AWARD
FOR STUDENT LEADERSHIP IN ORGANIZED OPTOMETRY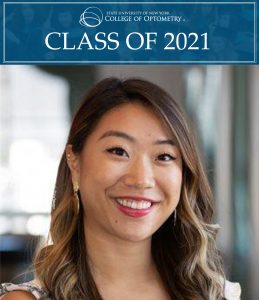 It was time spent as an undergraduate student in the Collegiate Science and Technology Entry Program (CSTEP) at SUNY Optometry that led Angela Wen to choose her future profession and the school that would make it happen. Fast forward to graduation with a Doctor of Optometry degree, Wen leaves behind a legacy of leadership that includes advocating for legislation on important issues that impact optometric practice and patient care. Recipient of the Morton L. Kimmelman Memorial Award For Student Leadership In Organized Optometry, Wen underscores why the path to success in any endeavor requires moving to action, reaching for guidance, and embracing support.
Degree: Doctor of Optometry
Hometown: Livingston, New Jersey
Undergraduate Education: Rutgers University, B.A. Economics
What draws you to optometry?
I love the direct relationship optometrists have with their patients and how rewarding optometry is in so many ways. I especially enjoy being able to help patients care for their overall health when discovering ocular manifestations of certain systemic diseases.
What is your fondest memory of your time at the College?
My favorite memory was attending the American Optometric Association on Capitol Hill as a second-year student. We are constantly taught in school that optometry is a legislative profession, but I never knew what that entailed until this event. It was such an incredible experience to advocate for our profession with classmates and future colleagues and to speak with senators and members of Congress about current optometric issues.
How did your classmates shape your experience?
It would have been impossible to survive the past four years without my classmates. The camaraderie of going through all the quizzes, finals, and assessments together is how we could get through optometry school. The constant mutual support and ability to celebrate the highs and lows of successes and failures with classmates who have become lifelong friends are among the best parts of attending SUNY.
What was your favorite course?
Ocular Disease 2. This class was so clinically relevant and well taught by Dr. Kimberly Poirier and Dr. Jennifer Gould. I apply what I learned in this class to my patients on a daily basis!
What are your post-graduation plans?
I will be completing an ocular disease residency at VA Harbor Health at VA Brooklyn and St. Albans Community Center in Queens, New York.
What advice would you give new students at the College?
My biggest advice to new students would be to get involved within optometry outside of the classroom and don't be afraid to ask for help. The faculty at SUNY Optometry are incredibly supportive and are so encouraging when you reach out for anything.