DR. FREDERICK W. BROCK MEMORIAL AWARD FOR OUTSTANDING CLINICAL PERFORMANCE IN VISION TRAINING
ABRAM A. HUBAL. OD, STUDENT SERVICE AWARD
SPONSORED BY THE NEW YORK STATE OPTOMETRIC ASSOCIATION (NYSOA)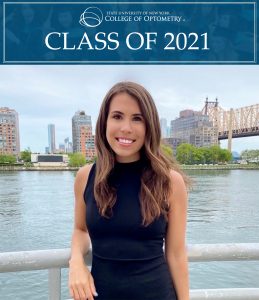 Double-award winner Carey (C.J.) Murzynski points to her experience as a competitive gymnast and track runner as the formula for her success in study. "Growing up I spent most of my weekends at meets. Not only did this help me feel comfortable 'on the stage' during clinical assessments throughout optometry school, but instilled in me the discipline and drive to achieve academically." During undergraduate education, Murzynski developed an interest in human development and the inner workings of the brain, including how various sensory input is processed in different regions to ultimately signal motor output, "whether it be a back handspring or making eye movements while reading." After shadowing a variety of optometrists, including those who specialize in vision therapy, she found a career that not only encompasses her interests but also improves the lives of others. 
Recipient of the Dr. Frederick W. Brock Memorial Award for Outstanding Clinical Performance in Vision Training and the Abram A. Hubal O.D. Student Service Award sponsored by The New York State Optometric Association (NYSOA), Murzynski reflects on her journey to become a doctor of optometry.
Degree: Doctor of Optometry
Hometown: Buffalo, New York
Undergraduate Education: SUNY Geneseo, B.S. Biology, Minor: Human development
What draws you to optometry?
My dad is an optician, and in high school, I worked with him. While I helped with front desk duties at his office, I witnessed first-hand the trust and gratitude patients and their families had for him and the rest of the staff. I'm drawn to the personal relationships that eye care providers develop with their patients, rare in modern healthcare. Depending on the patient's needs and lifestyle, optometrists can customize treatment plans, from a pair of glasses to specialty contact lenses to vision training, to make a patient happy and comfortable every day.
What is your fondest memory of your time at the College?
My fondest memory was attending Lobby Day in Albany as NYSOA student president-elect my second year. As a native Western New Yorker, I directly spoke to local legislators about my future profession and advocated for our needs to provide the best care for patients. It was exciting to directly and actively be involved in my county and state government and meet doctors from the area who were passionate about legislative optometry.
How did your classmates shape your experience?
My classmates have been a great support system. I would not have been able to stay motivated late at the library or made it through some stressful clinic sessions without the camaraderie of my classmates. We have faced challenges and have made sure to celebrate achievements along the way together.
What was your favorite course?
My favorite course was Neuro-Ophthalmic Disease. Dr. Patricia Modica engagingly presented fascinating and complex cases. She taught how to strategically work through them to reach a diagnosis and treatment plan.
What are your post-graduation plans?
I would like to begin my career in private practice in Buffalo, NY.
What advice would you give new students at the College?
Get involved with clubs and organizations at SUNY Optometry that fit your interests, and don't be afraid of possible time commitments they present. The experiences these opportunities offer are invaluable and cannot be gained in the classroom. Being involved allows you to develop relationships with upper-level students, faculty, and community members who can become great mentors along the way.