CLASS OF 1991 PACE SETTER AWARD FOR EXCELLENCE IN PRIMARY CARE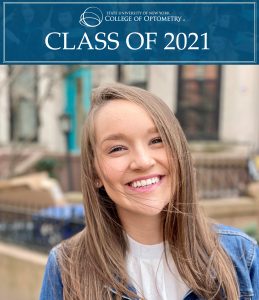 After exploring many career options in healthcare, Cassidy Sauer decided to follow the path forged by family. She credits her big sister, a SUNY Optometry graduate, for providing direction to her chosen profession. "I knew after shadowing her that optometry was the path for me," said Sauer. "Not only is the profession itself so rewarding, but the opportunity to work in a family business alongside my sister and mentor makes all of my hard work and dedication worth it."  As recipient of the Class of 1991 Pace Setter Award for Excellence in Primary Care, Sauer shares fond memories from her time at the College and encourages new students of optometry to seize the moment. 
Degree: Doctor of Optometry
Hometown: Cochecton, NY
Undergraduate Education: SUNY Cortland, B.S. in Biology
What draws you to optometry?
I have always known I wanted to pursue a career in healthcare from a young age. The satisfaction of helping others has been my lifelong goal. After a long journey of exploring many other career paths (chiropractor, medicine, dentistry), I was lucky enough to have my very successful older sister, Maegan Sauer '15, introduce me to the career of optometry. She has been such a positive impact on my success.
What is your fondest memory of your time at the College?
SUNY Optometry has provided me with a lifetime full of memories, both academically and socially rewarding. One of my fondest memories is the annual VisionWalk fundraiser. As part of the committee for all four years, I was fortunate to help organize and raise money for Foundation Fighting Blindness with my optometry friends. Each spring, we would gather all participants together in Central Park for the annual walk and fundraiser to celebrate all the hard work and effort we have achieved. Our goal was to raise around $5,000 to donate towards research against hereditary retinal diseases, which we would always accomplish. I will also always cherish the memories of celebrating together with my classmates at our formal Eyeball. This longstanding gathering provided opportunities for us to socialize with our peers and relax after all the hard work dedicated to our rigorous academic program.
How did your classmates shape your experience?
Having a solid support system has made my journey through optometry school very rewarding. I will always cherish my friends for both educational and emotional support. Learning from each other has made this very challenging journey both pleasant and attainable. Together we have succeeded and also developed lifelong friendships, for which I will always be grateful!
What was your favorite course?
My favorite course at SUNY Optometry was Ocular Disease. This course required endless time and studying to understand the material. However, I would always find myself enjoying studying for this class. It was the first time in optometry school that I started to feel confident as a clinician in understanding the treatment and management of disease.
What are your post-graduation plans?
Post-graduation, I plan to work with my sister in her private practice, Eyes on Main Street Optometry, in Jeffersonville, New York. I am very excited and fortunate to have this opportunity to grow and expand her practice and join a partnership with a mentor and my sister.
What advice would you give new students at the College?
For any incoming student, my best advice is always to take a step back and see the big picture. School will be very challenging. However, it will be worth it in the end. Try to remember when school gets tough, it's only temporary. Things will get better! Balance is key. Although studying is a must, always remember to take breaks and explore NYC while you're there! We're so lucky to attend an optometry school in the heart of Manhattan, so take advantage of the opportunities that surround you.