COVD AWARD EXCELLENCE IN VISION TRAINING
BILLIE M. LYONS MEMORIAL AWARD FOR DISTINGUISHED SERVICE
TO THE COLLEGE COMMUNITY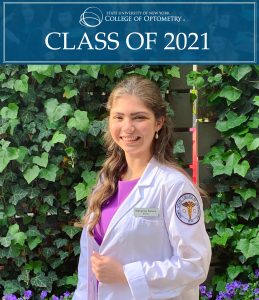 Over the past four years, Marianna Butera fully immersed herself in the experience of being a SUNY Optometry student by making the most of every opportunity. She served as Student Council President and as a tour guide for the Office of Student Affairs. She was also involved in a number of organizations, including participating in a mission trip with the Student Volunteer Optometric Services to Humanity (SVOSH), and various event committees, such as orientation, yearbook, Eye Ball, and the holiday party. With an interest in vision therapy, Butera took part in the vision therapy micro-credentialing program and an externship in vision therapy at SUNY Optometry where she was a patient in her second year of study. Recipient of the COVD Award Excellence In Vision Training and the Billie M. Lyons Memorial Award For Distinguished Service to the College Community, Butera reflects on working to improve life for others, forming lasting connections, and seizing the day.
Degree: Doctor of Optometry
Hometown: Hamburg, NY
Undergraduate Education: SUNY Oswego, B.A. in Chemistry 
What draws you to optometry?
I've always enjoyed helping others. Working in optometry, we get to provide life-changing care to our patients. Vision therapy has always been an interest of mine because you are making a huge impact on the quality of life of your patients.
What is your fondest memory of your time at the College?
I was fortunate enough to go on a mission trip with SVOSH to Panama. It was an amazing opportunity. In addition, working as the Student Council President, I got to plan numerous events that allowed students to relax and enjoy their time in New York City. I enjoyed attending these events and spending time with my friends after all of our hard work during classes and clinic.
How did your classmates shape your experience?
I made lifelong friends whom I know I'll remain close with for many years to come. They were my support system during optometry school, and I'm grateful that this experience brought us together.
What was your favorite course?
Integrative Seminar. I enjoyed getting into the clinic during our first semester and having the opportunity to work with patients from the first week of school. Patient care, in general, was my favorite part of optometry school.
What are your post-graduation plans?
I am pursuing a residency in Vision Therapy and Rehabilitation at SUNY Optometry.
What advice would you give new students at the College?
Make the most of every opportunity to learn and grow as a student, a person, and a doctor. In just four short years, you will be a doctor, and your patients will rely on your experience and expertise. Learn what you are passionate about within optometry and use that passion to shape yourself as a clinician.