NEW YORK, February 11, 2019 — SUNY Optometry third-year student Christian Crespo received the 2019 Student Innovator Award following the College's fourth annual competition on February 8.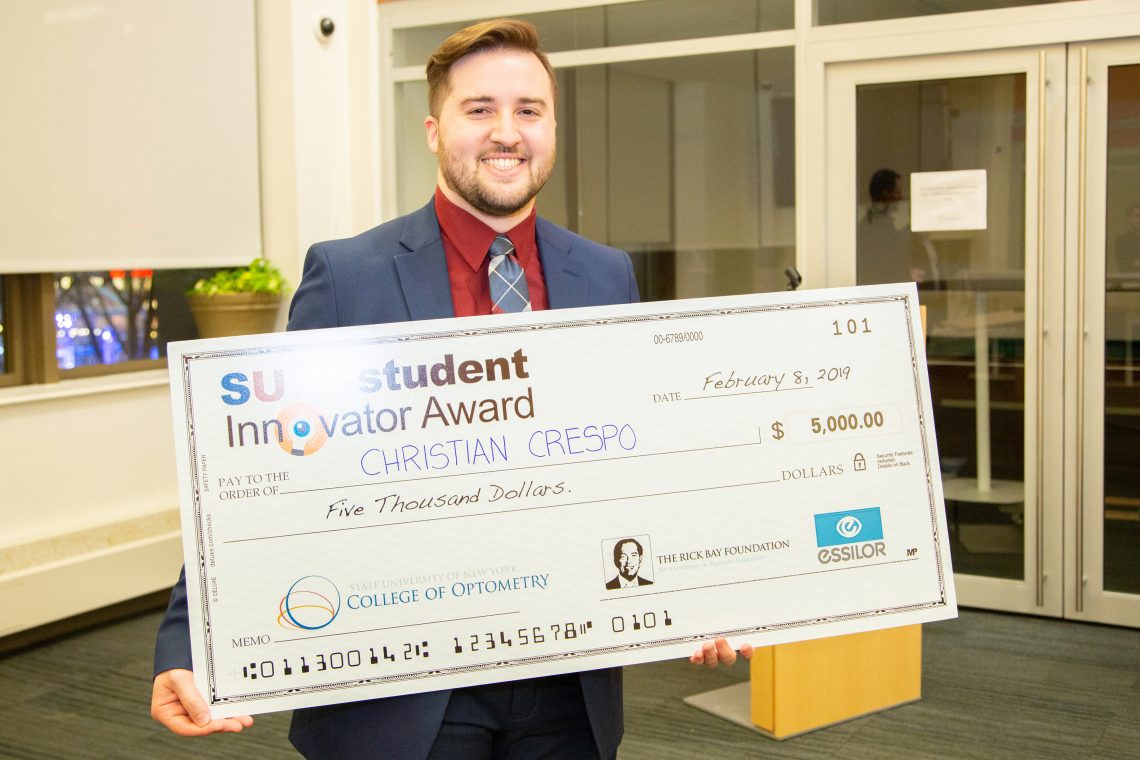 Mr. Crespo presented a 3D printed retinoscope design to help address refractive error blindness around the world. He believes access to more affordable optometric equipment would allow more individuals to be trained and equipped to provide eye care services for underserved communities.
"Refractive error is the second leading cause of preventable blindness worldwide, but individuals willing to be trained to provide refractive services simply can't afford the current cost of optometric equipment," he said. "My hope is that by working with humanitarian nonprofits to have my retinoscope produced and distributed, my innovation will help reduce the incidence of refractive error blindness."
Mr. Crespo also received a $5,000 scholarship during the award ceremony. He will share his concept during the Vision Monday Global Leadership Summit in March.
The annual competition began in the fall when students were invited to submit abstracts related to innovations or improvements in clinical eye care, research, practice management, optometric education, health care policy, community education, technology and social media. Their submissions were reviewed by the award committee and finalists, including Mr. Crespo, Daniel Chen, Constantinos Bacas, Alexa Reifinger, Jessica Hoang and Ludy Yang, were chosen to develop their ideas and create presentations.
Marc Ferrara, chief executive officer of the information services division of Jobson Medical Information; Ryan Parker, director of professional education for Essilor of America, Inc.; Liduvina Martinez-Gonzalez, the College's vice president for clinical administration and executive director of the University Eye Center; Dr. Kristen Fry, director of the Clinical Vision Research Center; and Dr. Richard Soden, director of health care development, served as judges for this year's competition. They assessed the students' ideas for originality, potential impact, viability and feasibility.
SUNY Optometry students have this opportunity to be directly rewarded for their ingenuity thanks to a partnership with Essilor of America, Inc. and the Rick Bay Foundation for Excellence in Eye Care Education. Past winners include Elkie Fung and Tara Mahvelati, Kathleen Hoang and Vanessa Fimreite.
Media Contact: Amber E. Hopkins Tingle, 212.938.5607, amber@sunyopt.edu