She also delivered the Josh Wallman Memorial Lecture during the recent International Myopia Conference in the UK.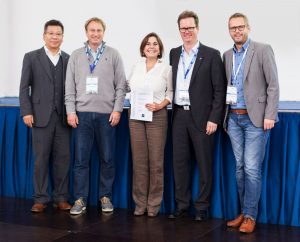 SUNY Optometry assistant clinical professor Dr. Alexandra Benavente-Pérez received the ZEISS Young Investigator Award in Myopia Research during the International Myopia Conference in Birmingham, UK from September 14 to 17.
The award recognizes young researchers for distinguished contributions to the field of myopia research, including visual psychophysics, physiological and biomedical optics, and research efforts to overcome limitations of vision. Eligibility is restricted to active junior myopia researchers who have completed a PhD, equivalent research degree, or myopia research training within the last 10 years.
Dr. Benavente-Pérez is a clinician scientist and trained under the mentorship of experts in clinical and experimental myopia and ocular vascular research, including Dr. David Troilo, Dr. Sarah Hosking, Dr. Nicola Logan, and Dr. Doina Gherguel. She received her optometry degree from the University of Valladolid in Spain and, two years after starting her career in optometry as a clinician, she moved to Manchester, UK, to pursue her MS degree in investigative ophthalmology and vision sciences. She dedicated her postdoctoral training to studying the mechanisms of visually guided eye growth.
She combines her basic and clinical research interests in myopia, ocular imaging, animal models, and vascular hemodynamics and currently focuses on the spatial and temporal integration properties of refractive development and the role peripheral refraction plays in visually guided eye growth and myopia development. Her collaborators are often experts in retinal physiology, neuroanatomy, physics, and imaging.
Dr. Benavente-Pérez also delivered the Josh Wallman Memorial Lecture during the September conference. As a long-term senior faculty member of City University of New York, Dr. Wallman pioneered the use of the avian model for understanding eye growth and made invaluable contributions to vision research and the field of myopia. He succumbed to pancreatic cancer on March 3, 2012 and is remembered for his enthusiasm for science and interest in and promotion of young researchers' work.
Media Contact: Amber E. Hopkins-Jenkins, 212.938.5607, aehopkinsjenkins@sunyopt.edu