Dozens of eye care providers gathered to meet the College's students during the annual event.
On September 7, SUNY Optometry students attended the College's sixth annual Student Externship Expo. They had the opportunity to meet with about 40 institutions, including community health centers, hospitals, military hospitals, referral centers, private practices, interprofessional practices and specialty care practices. VA Harbor Health-Brooklyn, New York University, Ezra Medical, Compton Eye Associates and Total Vision were just a handful of the care providers hoping to meet College's students as they prepare for fourth-year externships.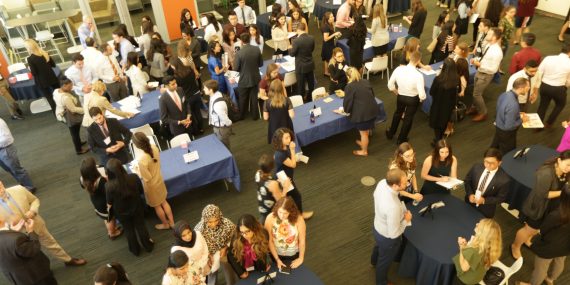 "The expo's goal was to create an interactive, educational event to promote communication between SUNY Optometry students and externship site supervisors, resulting in better onboarding of students and selection of externship sites," says associate clinical professor Dr. Thomas A. Wong, who is also director of clinical externships. "It is the only opportunity students have to speak directly with externship supervisors about their sites."
While giving students a chance to meet with representatives from leading institutions in the eye care industry, the expo also featured the SUNY Externship Site Supervisor Educational Initiative. It included four hands-on, interactive workshops for externship site directors and supervisors. Topics were OCT and glaucoma evaluation; integrated wavefront aberrometry and automated refracting lanes; corneal topography and specialty contact lens design; and wide-angle fundus photography and fundus auto-fluorescence. "The educational program helps site supervisors have a better understanding concerning current optometric education," says Dr. Wong.
Students and site supervisors recognize the expo as an ideal first step in the externship selection process. "The expo is important because you get to meet the doctors you'll be working with every day and it gives insight into their teaching style and what to expect for the next three months," says SUNY Optometry fourth-year student Kyra Dorgeloh, who secured both her current externship at Woodhull Hospital and her upcoming one at Downtown Eyecare through the expo. "You can also ask questions about the day-to-day flow at the site and get an idea of what your responsibilities will be. It's the best way to really choose something that's right for you."