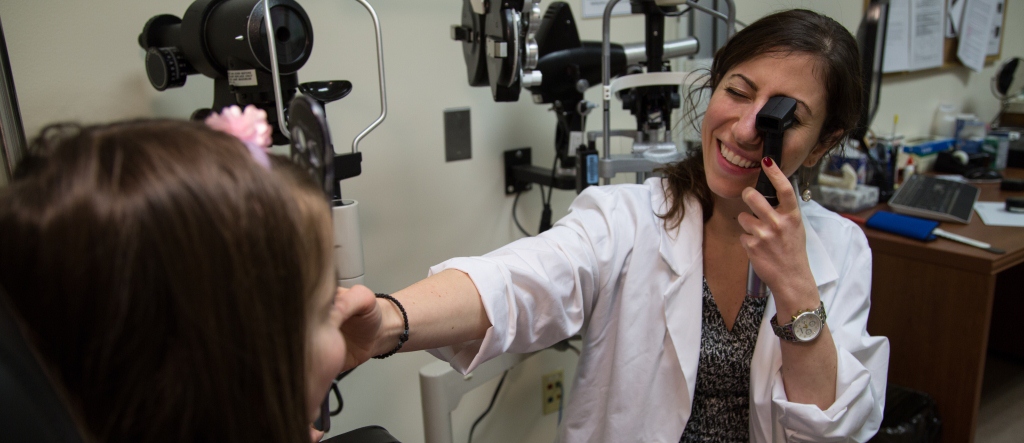 Since it officially began operation in early 2013, the Clinical Vision Research Center (CVRC) has made a profound and lasting impact, both internally at the College and externally within the community. From helping train eight clinical faculty members and educate a dozen OD students in the principles and practices of clinical research, to providing over 800 New Yorkers with therapies and treatments—unavailable at outside practices—at no cost to them, the CVRC has shown itself to be a full manifestation of SUNY Optometry's multifaceted mission, bringing together education, research, patient care and community all in one place.
"We've got a great team of faculty, students, staff and partners at the CVRC," Dr. Kathryn Richdale, its director, said. "We're very proud of the fact that the work that we've done with our partners has helped to advance eye and vision care but we're equally proud of the fact that we've trained faculty and students and that we've positively affected the lives of so many people in our community."
The CVRC's unique contributions go further still. Dr. Richdale is helping to lead a system-wide effort designed to enhance clinical research throughout the State University of New York, a testament to the work that the Center has done over a short period of time.
There's much more still to be done, however.
"SUNY is uniquely positioned to be a leader in eye and vision research," Dr. Richdale said. "And the CVRC is uniquely positioned to bring this research directly to people who can benefit from it, so we're constantly working to strengthen our team and to expand into new areas in order to develop better treatments for our patients."