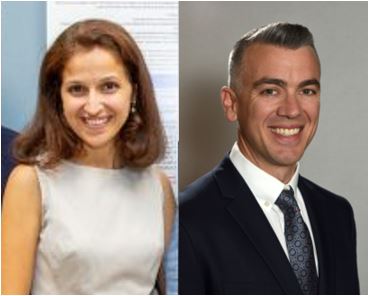 New York, NY: The Optometric Center of New York (OCNY) recently named former New York State Assembly member Aravella Simotas and Dr. Kevin Gioia, MD to its board of trustees for a three-year term beginning earlier this month.
Former Assemblymember Aravella Simotas represented the 36th District in Queens for a decade in the New York State Assembly. As a member of the State Legislature, Ms. Simotas created critical policies that advanced the healthcare rights and protections of New Yorkers including policies that resulted in legislation to combat sexual violence, protect the rights of workers, advance gender equality, and safeguard small businesses. Additionally, she served as an early champion of the recently passed Orals Bill.
In 2017, Ms. Simotas' support and advocacy resulted in funding to upgrade the neuro-optometric unit within the University Eye Center at SUNY College of Optometry enhancing access for patients with brain injuries and other neurological conditions. She is continuing her vital work as the head of state and local government affairs for BNY Mellon, where she focuses on strengthening community relationships and spotlighting public sector needs. Ms. Simotas was the recipient of an honorary degree by SUNY College of Optometry in 2022 for her substantial contributions to the advancement of optometry and public healthcare.
Kevin T. Gioia, MD is a urologist specializing in urogynecology based in Shrewsbury, NJ. Dr. Gioia obtained his medical degree from the Rosalind Franklin University of Medicine and Science, The Chicago Medical School and went on to complete residency training at SUNY Stony Brook University Medical Center in general surgery and urologic surgery.
He is fellowship-trained in female pelvic medicine and reconstructive surgery at Virginia Mason
Medical Center.
Dr. Gioia's clinical interests include urinary incontinence, recurrent urinary tract infections, and
pelvic organ prolapse. He works in affiliation with Hackensack Meridian Health and RWJ Barnabus Health. He is the founder of New Jersey UROGYN, the center for cutting edge pelvic surgery.
Dr. Richard Soden, OD, FAAO serves as the President of the board of trustees and welcomed its newest members. "Adding Asemblymember Simotas and Dr. Gioia will help strengthen key purposes of our board that include helping patients, students, and the community," explained Dr. Soden. "It is through the dedication and commitment of the Foundation's Board of Trustees that we are able to secure funding for programming that promotes opportunity and better health for all people."
Also announced at the board meeting is the upcoming name change for the foundation to the SUNY College of Optometry Foundation which was approved by the Board of Regents for the State of New York and the State Education Department.
FOR IMMEDIATE RELEASE:  Wednesday, July 19, 2023
About the Optometric Center of New York
Founded in 1956, the Optometric Center of New York, currently serves as the college related, tax-exempt foundation for SUNY College of Optometry and its affiliated patient care clinic, the University Eye Center. OCNY stands as an example of what partnership among visionary community leaders, education, and businesses can accomplish. Since its inception the OCNY has demonstrated an ongoing commitment to supporting vision care for underserved populations; educating the next generation of optometrists including providing merit and need-based scholarships to students; and advancing research into the complex human visual system.
On July 1, 2023, the OCNY will officially change to SUNY College of Optometry Foundation.
To make a donation visit www.sunyopt.edu/give or to learn more contact ocny@sunyopt.edu or 212-938-5600.
Media Contact: Rob Rosiello, communications@sunyopt.edu
###
About SUNY Optometry
Founded in 1971 and located in New York City, the State University of New York College of Optometry is a leader in education, research, and patient care, offering the Doctor of Optometry degree as well as MS and PhD degrees in vision science. The College conducts a robust program of basic, translational and clinical research and has 65 affiliated clinical training sites as well as an on-site clinic, the University Eye Center.  SUNY Optometry is regionally accredited by the Commission on Higher Education of the Middle States Association of Colleges and Secondary Schools; its four-year professional degree program and residency programs are accredited by the Accreditation Council on Optometric Education of the American Optometric Association. All classrooms, research facilities and the University Eye Center, which is one of the largest optometric outpatient facilities in the nation, are located on 42nd Street in midtown Manhattan. To learn more about SUNY Optometry, visit www.sunyopt.edu.