July 15, 2020

Ophthalmic Diagnostic Imager is Changing Patient Lives through Dedication and Skill at the University Eye Center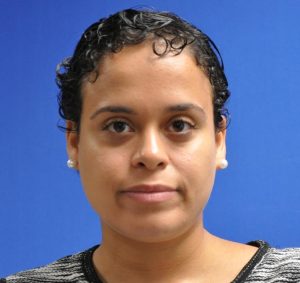 Although she didn't graduate from the SUNY College of Optometry, Amber Tavarez shares a passion for eye care with the school's faculty and alumni. As an ophthalmic diagnostic imager at University Eye Center (UEC), among the largest optometric outpatient facilities in the nation, she can indulge this passion in the daily care and service of patients from all walks of life.
"Whether it's a friendly conversation or performing imaging, each patient is important," stated Tavarez. "I take pride knowing that I had a positive impact on their day."
Tavarez joined the UEC in 2019. Before that, she worked at Cohen's Fashion Optical as a medical technician and contact lens specialist. "I was yearning for something new and challenging where I could put my skills to use and learn new ones," she said. "My previous manager, who is an employee at SUNY Optometry, informed me of an open position."
A typical day at the UEC is split between patient care and using her technical skills. After patients see the doctor, Tavarez addresses whatever imaging needs they have. "I perform a wide range of diagnostic imaging, including ultrasounds, visual fields, and optical coherence tomography," she says. "[But] aside from the technical skills, I feel like I improve the lives of patients by showing each one I care."
At the College, she has not only found what she calls her "niche," but is also able to dive deeper into the field she loves. "The best part of my job is learning new skills from the amazing faculty," explained Taverez. "'Look, you learned something new today!' is my favorite phrase to hear."  
As the UEC increases in-person services following the coronavirus restrictions, Taverez looks forward to resuming her passionate work and continuing to make a difference for patients.
"I strive for each patient to have a positive experience and to see through me that SUNY College of Optometry continues to uphold the highest standards even during a challenging time," said Tavarez. "We continue to adjust and provide the best service possible."
While telehealth visits remain available, the University Eye Center is offering in-person appointments for primary and urgent care visits across all of our eye care services including the new Barbara Saltzman Center for Pediatric Eye Care. For more information or to make an appointment, call 212-938-4001 or visit the UEC web site at universityeyecenter.org for more information about eye health and vision care.
###
About SUNY College of Optometry

Founded in 1971 and located in New York City, the State University of New York College of Optometry is a leader in education, research, and patient care, offering the Doctor of Optometry degree as well as MS and PhD degrees in vision science. The College conducts a robust program of basic, translational and clinical research and has 65 affiliated clinical training sites as well as an on-site clinic, the University Eye Center.  SUNY College of Optometry is regionally accredited by the Commission on Higher Education of the Middle States Association of Colleges and Secondary Schools; its four-year professional degree program and residency programs are accredited by the Accreditation Council on Optometric Education of the American Optometric Association. All classrooms, research facilities and the University Eye Center, which is one of the largest optometric outpatient facilities in the nation, are located on 42nd Street in midtown Manhattan. To learn more about SUNY College of Optometry, visit www.suny.edu.