The Optometric Center of New York trustee wants to cultivate a culture of giving among students.
It's impossible to overestimate the importance of word of mouth when it comes to securing dynamic members of the Optometric Center of New York (OCNY) board of trustees. For George Spiropoulos, CFP, CIMA—family wealth director, financial advisor and executive director of the BlueStone Group at Morgan Stanley Wealth Management—his introduction came from fellow board member Mr. Adam Sheer.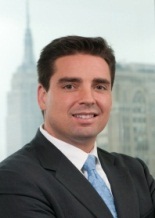 "I was referred by [Adam] after a discussion on ways to give back to the community and he told me about his positive experience with OCNY," says Mr. Spiropoulos. He is especially drawn to the role the College plays in the lives of its various constituencies. "We are able to help a lot of different people, from students to patients to the less fortunate," he explains.
Mr. Spiropoulos, who also sits on the Morgan Stanley Executive Business Owners Council, prides himself on building and running a successful wealth management team and being in the top 1% of all financial advisors in the country. "It is validation of the time and commitment I have put into helping my clients and peers build careers," he says.
His background certainly comes in handy on the OCNY board. "We have been able to make quality recommendations regarding the investment policy, the monitoring and benchmarking, and the cash flow planning," the Valley Stream, New York-native says. His goal for the coming year is two-fold: "I aim to continue to improve the investment processes and start a culture of giving with the young students," he says.
Outside of helping to orchestrate a cultural shift at the College, Mr. Spiropoulos enjoys spending time with his wife and children in their Fair Haven, New Jersey home. He loves to cook—pancakes are a favorite in his house—and travel, with Greece topping his list of recent destinations.