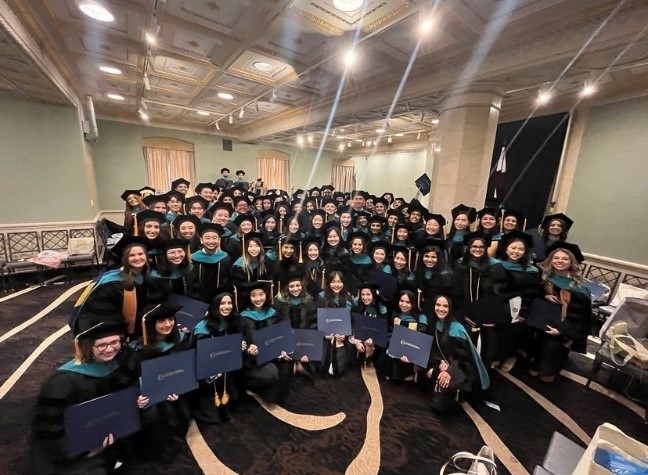 100 graduates earn degrees alongside Presidential Medallion and honorary degree recipients
Keynote address given by Dr. Wayne J. Riley
New York, NY:  The State University of New York (SUNY) College of Optometry held its 49th commencement on Thursday, May 25th, for 100 Class of 2023 students earing OD, PhD, and MS degrees during an in-person ceremony that was hosted at the historic Gotham Hall and broadcast virtually.
The procession was led by Dr. Joan Portello carrying the ceremonial mace commissioned last year during the anniversary celebration. As the ceremony began, SUNY College of Optometry President Dr. David A. Heath noted the tremendous events that have taken place in the world since this graduating class began their journey together. "During your past four years, we – the SUNY College of Optometry community – have endeavored to not only educate you as exceptional eye care providers and scholars, but to offer you opportunities that ensure you stand above and are able to provide leadership in your profession and within the communities you serve," said Dr. Heath. "As you enter your professional careers, you are doing so at time when there is a tremendous demand by society for your knowledge, your skills, and perhaps more than ever – your compassion. I am very confident that you will serve your patients and the public well whichever way you choose to practice."
Class P resident Travis Pfeifer, followed with a heart-felt and emotional tribute to the faculty, staff, family, friends and classmates.  He quoted Charlie Day in saying, "You don't have to be fearless.  You just can't let the fear stop you."  He went on to add, "This class is one to stand firm in what you believe is right, and work to make everything and anything better."
The commencement keynote address was given by SUNY Downstate President, Dr. Wayne J. Riley, an academic primary care general internist who has more than 25 years of progressively senior executive level management, policy, and leadership experience. "However, you choose to celebrate, I implore you to celebrate this great accomplishment," said Dr. Riley. "But be a leader, because leadership is everyone's responsibility, it's about relationships and a thorough understanding of one's self. It is important that you maintain a personal sense of self in the process.  Embrace a clear and healthy mind, body and spirit as it is essential to your well -being, so graduates go forth, do good work and be leaders."
SUNY Optometry honorary degree recipients, Dr. Anne B. Fulton who received the doctor of science, honoris causa, degree in recognition of her contributions to the field of vision science, and Ms. Ronda Stilley Kotelchuck, the founding CEO of the Primary Care Development Corporation (PCDC), who received a doctor of humane letters, honoris causa shared words of gratitude and wisdom with the graduates.
"I acknowledge with humility and tremendous gratitude this magnificent honor today," Dr. Fulton stated, also adding, "To the graduates – I wish you delight in your inevitable discoveries of new knowledge that you will be making on behalf of patients across the country and around the world."
Ms. Kotelchuck echoed Dr. Fulton's gratitude and well wishes to the Class of 2023.  "I have received enormous blessings in my lifetime, as have you, and I have always believed that "To whom much is given, much will be required. I couldn't be more honored than to have you recognize the purposes to which I've dedicated my life—assuring the right to health and health care to everyone regardless of their circumstance."
Dr. Julia Appel '91, R'92, received the Presidential Medallion for her career-long contributions and dedication to the advancement of the College and the communities it serves.
Among the College's newest alumni is one master of vision science degree recipient, two advanced certificates in optometry business management, four PhD recipients in vision science, six OD/MS recipients and twenty doctor of optometry graduates who additionally completed a microcredential program in a specialized area of vision care. Twenty-three members of the class were also recognized with awards for academic achievement, research, and service.
For more information about academic programs, residency, and patient care at SUNY Optometry, visit sunyopt.edu.
Contact: Rob Rosiello, communications@sunyopt.edu
FOR IMMEDIATE RELEASE: Wednesday, May 31, 2023
###
About SUNY Optometry
Founded in 1971 and located in New York City, the State University of New York College of Optometry is a leader in education, research, and patient care, offering the Doctor of Optometry degree as well as MS and PhD degrees in vision science. The College conducts a robust program of basic, translational and clinical research and has 65 affiliated clinical training sites as well as an on-site clinic, the University Eye Center. SUNY Optometry is regionally accredited by the Commission on Higher Education of the Middle States Association of Colleges and Secondary Schools; its four-year professional degree program and residency programs are accredited by the Accreditation Council on Optometric Education of the American Optometric Association. All classrooms, research facilities and the University Eye Center, which is one of the largest optometric outpatient facilities in the nation, are located on 42nd Street in midtown Manhattan. To learn more about SUNY Optometry, visit www.sunyopt.edu.