Panelists and participants discuss learning to serve patients' unique needs first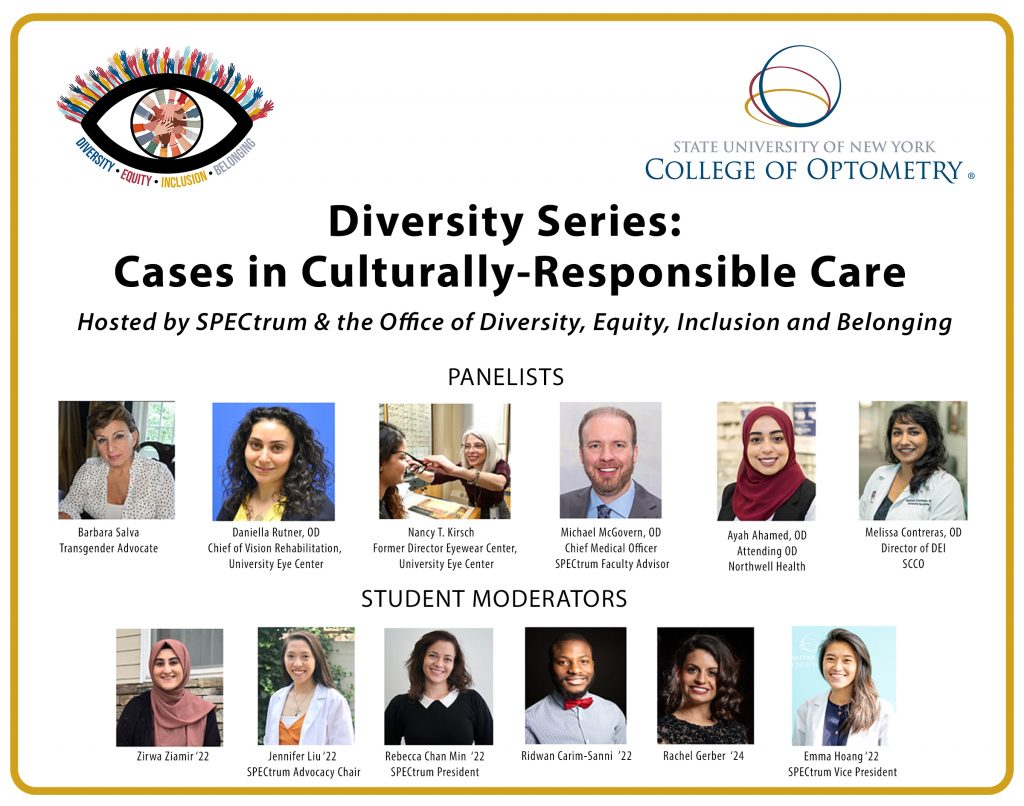 New York-NY—From appointment to exam, taking time to understand a patient's beliefs and values from the start can lead to more productive visits with their providers and better health outcomes. This critical perspective in healthcare delivery served as the focus of Cases in Culturally Responsible Care, part three of a monthly virtual diversity series hosted collaboratively on June 15th by SUNY College of Optometry's Office of Diversity, Inclusion, Equity and Belonging and SPECtrum, the nation's first student-run LGBTQIA+ club housed at a college of optometry.
"Most of us serve diverse patient populations, and none of us are experts on the expectations of each of these populations, including the social, cultural, religious, and linguistic needs. We all have more to learn," said Michael McGovern, OD, chief medical officer at SUNY Optometry and a co-founder/faculty advisor of SPECtrum along with Dr. Brandon Harnos. "[In this program], we look to provide the insight and guidance to facilitate and inform a respectful conversation between patients, office staff, and providers."
The online panel discussion comprised optometric student moderators and clinician-advocates, including a transgender patient advocate, that covered best practices for abiding by religious customs, considerations for care of the Spanish-speaking Hispanic/Latinx community, and recommendations for effective and respectful communication with transgender patients. The goal of the program was to serve as a safe space for questions and dialogue, beginning with a talk about caring for the Jewish and Muslim patient, including rules for personal space, physical contact/touch, language, modesty (gender preference, dress, and behavior) and interaction as observed by a particular religious practice.
"Whenever possible, it is important to adjust the exam to patient needs," explained Daniella Rutner, OD, MS, chief of vision rehabilitation at the College's University Eye Center, in her discussion of the Jewish patient. "It is also important to indicate what is going to happen during the exam, such as, "I am going to touch your eyelid," for example." In Muslim practice, a private space for prayer is important. "Muslims pray several times a day, starting from sunrise to sunset. If a patient needs to pray, it is important and respectful to provide time and a private space," said Ayah Ahamed, OD, attending physician at Northwell Health.
In caring for transgender patients, advocate Barbara Salva stresses creating a safe environment. "When a trans person comes into a doctor's office, especially for the first time, their stress levels are already high—they want to feel comfortable. The courtesy that you show can help bring stress levels down for a successful visit." This includes inclusive signage and patient registration forms like those recently introduced by the University Eye Center for pediatric and adult services on June 1st. The forms are accompanied by SOGI terms, guidelines, and protocols to help staff facilitate effective interaction and exchange. "If you are confused about identity or don't know—just ask politely, "What do you prefer?" or "What do you like to be called?" Courtesy goes a long way," added Salvo.
For the non-English speaking population, specifically Hispanic and Latinx, making the connection through language is critical to building rapport, trust, and compliance with care. "I grew up speaking Spanish in the home and spoke English in school. We would accompany my grandmother [who did not speak English] to healthcare appointments to make sure that she could communicate and express herself comfortably with the provider," said Melissa Contreras, OD, director of diversity equity and inclusion at SCCO. "Now as a doctor, I am grateful for being bilingual and having the skills to communicate with a whole population of people that speak Spanish. I see what a big impact it makes in being able to express themselves through their language about their pain, anxiety, eye conditions, and quality of vision."
Strategies for success such as allowing more time for visits, bilingual signage and forms, interpreter services, and observing normative values such as kindness, friendliness, and respect for personal space will go a long way in ensuring productive and mindful visits with non-English speaking patients—and patients of all walks of life.
"Communication is the single most important tool we have as healthcare providers – and to be able to communicate in an efficient and respectful manner, we must have insight into the beliefs and expectations of the diverse patient populations we serve," said Dr. McGovern in closing remarks. "My hope is that tonight's webinar is just the start of many such SUNY Optometry programs on culturally-responsible and culturally-sensitive care."
Including student training and resources as well as service to patients, the College has taken the lead in optometric education and advocacy. For information about diversity and inclusion initiatives at SUNY Optometry, go to sunyopt.edu.
June 18, 2021
Organization contact: Adrienne Stoller, communications@sunyopt.edu, 212-938-5600
About SUNY Optometry
Founded in 1971 and located in New York City, the State University of New York College of Optometry is a leader in education, research, and patient care, offering the Doctor of Optometry degree as well as MS and PhD degrees in vision science. The College conducts a robust program of basic, translational and clinical research and has 65 affiliated clinical training sites as well as an on-site clinic, the University Eye Center. SUNY Optometry is regionally accredited by the Commission on Higher Education of the Middle States Association of Colleges and Secondary Schools; its four-year professional degree program and residency programs are accredited by the Accreditation Council on Optometric Education of the American Optometric Association. All classrooms, research facilities and the University Eye Center, which is one of the largest optometric outpatient facilities in the nation, are located on 42nd Street in midtown Manhattan. To learn more about SUNY Optometry, visit www.sunyopt.edu.