GRADUATION AWARDS FOR THE CLASS OF 2022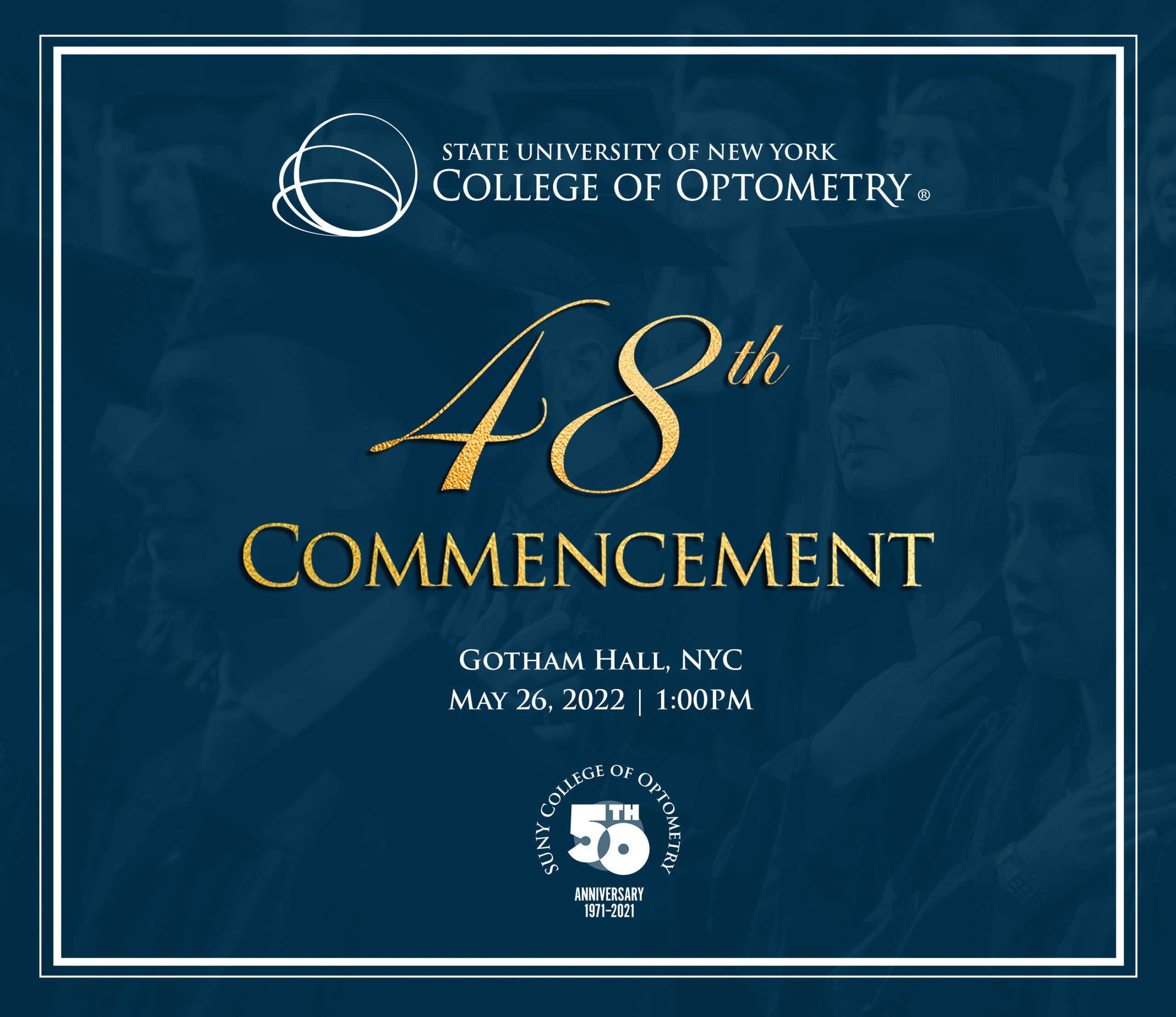 NEW YORK, NY – SUNY College of Optometry will honor the Class of 2022 for achievements related to academic, service, and professional excellence during the annual Graduation Awards Ceremony on Thursday, May 26 at 10 a.m. in the Schwarz Theater.
The Chancellor's Awards for Student Excellence, the highest honor bestow upon a student in the State University of New York, will be presented during the Commencement Ceremony later that day.
"Every year, it is an honor to recognize the outstanding work of SUNY Optometry students whose commitment to service, education, and professionalism serves as a true testament to our institution. I have no doubt that this year's award recipients will go on to forge incredible careers, and I wish them the very best," said SUNY Optometry President Dr. David A. Heath.
Congratulations to the Class of 2022!
Special Recognition
SUNY Chancellor's Award for Student Excellence
Stephanie Alison Schwartz
Julie FeiFei Song
Academic and Clinical Awards
Beta Sigma Kappa Award for Academic Excellence
Jared Rahn
Dr. Frederick W. Brock Memorial Award for Outstanding Clinical Performance in Vision Training
Julie FeiFei Song
College of Optometrists in Vision Development Award for Excellence in Vision Therapy
Aileen M. Lee
Columbia Class of 1936 Award for Academic and Clinical Achievement in Ocular Disease
Andrew Charles Rouse
Class of 1991 Pacesetter Award for Excellence in Primary Care
Jared Rahn
Dr. Stanley Eisenberg Memorial Award for Excellence in Practice Development And Administration
Ridwan Carim-Sanni
Dr. William Feinbloom Memorial Award for Outstanding Clinical Proficiency in Low Vision
Marlin John
Ira Goldfarb Memorial Award for Excellence in Low Vision
Julie FeiFei Song
Dr. Louis Herrmann Memorial Award for Outstanding Compassion in Patient Care
Min Kyung Kim
Mr. and Mrs. Irving Unger Award for Excellence in Optometry
Andrew Charles Rouse
Josh Wallman, PhD Memorial Research Award
Crystal Guo
Esther J. Werner Memorial Award for Academic Excellence
Stephanie Alison Schwartz
Service Awards
Dr. Max Cohen Memorial Award for Commitment to Community Service
Omar Perdomo
Ridwan Carim-Sanni
Dr. Benjamin Freed Memorial Award for Community Service
(sponsored by Reader's Digest Partners for Sight Foundation)
Breanna Maria Tran
Morton L. Kimmelman Memorial Award for Student Leadership in Organized Optometry
Ashka Patel
Billie M. Lyons Memorial Award for Distinguished Service to the College Community
Constantinos John Bacas
New York State Optometric Association Auxiliary Award for Outstanding Service to the Class Of 2022
Julie FeiFei Song
Diversity, Equity and Inclusion Award
Jennifer Jing Liu
Bernard Stephen Murray II
Abram A. Hubal, OD Student Service Award
(Sponsored by The New York State Optometric Association)
Brigette Roman
Professional Distinction Awards
Alcon Award for the Outstanding Case Report on the Use of an Alcon Product
Melody Kordnaij
GP Lens Institute Clinical Excellence Award for Outstanding Clinical Proficiency in Contact Lenses
Julie Lin
Dr. William M. Eisenberg Memorial Award for Excellence in Ocular Disease
Julie Lin
Good-Lite Pediatric Award for Excellence in Pediatric Optometry
Rebecca Chan Min
Eschenbach Award for Excellence in Low Vision
Kaitlyn Martina Rooney
Johnson And Johnson Excellence Award for Excellence in Clinical Contact Lens Patient Care
Julie FeiFei Song
Optelec Low Vision Award for Excellence in Low Vision
Melody Kordnaij
Residency Award
Dr. Martin H. Birnbaum Memorial Award for a Vision Therapy Resident
Dr. Marianna Butera
Beta Sigma Kappa
Kelly Armstrong
Calvin Chan*
Ha eun Chung*
Crystal Guo*
Sharon Itzhakov
Melody Kordnaij
Aileen M. Lee*
Stephanie Liang *
Julie Lin *
Michael Benjamin Marton-Rollins*
Erica Meltzer *
Alfredo Lorenzo Mazzuca
Monica Papinski*
Jared Rahn*
Elise Marie Regina*
Sofia De Souza Ribolla*
Andrew Charles Rouse*
Oleksandra Savchuk*
Stephanie Sayegh*
Stephanie Alison Schwartz*
Aviela Segev*
Julie FeiFei Song*
Breanna Maria Tran
Kirsten Sylvain Winter
Carlos Fernando Woc*
Stephanie Jindee Yu*
* 4 – year member
Gold Key
Constantinos John Bacas
Rebecca Chan Min
Melody Kordnaij
Aileen M. Lee
Alfredo Lorenzo Mazzuca
Ashka Patel
Andrew Charles Rouse
Julie Fei Fei Song
Breanna Maria Tran
Carlos Fernando Woc
FOR IMMEDIATE RELEASE: 05/19/2022
MEDIA CONTACT: Dawn Rigney | drigney@sunyopt.edu | 212-938-5600
###
About SUNY College of Optometry
Founded in 1971 and located in New York City, the State University of New York College of Optometry is a leader in education, research, and patient care, offering the Doctor of Optometry degree as well as MS and PhD degrees in vision science. The College conducts a robust program of basic, translational, and clinical research and has 65 affiliated clinical training sites as well as an on-site clinic, the University Eye Center. SUNY Optometry is regionally accredited by the Commission on Higher Education of the Middle States Association of Colleges and Secondary Schools; its four-year professional degree program and residency programs are accredited by the Accreditation Council on Optometric Education of the American Optometric Association. All classrooms, research facilities and the University Eye Center, which is one of the largest optometric outpatient facilities in the nation, are located on 42nd Street in midtown Manhattan. To learn more about SUNY Optometry, visit www.sunyopt.edu.